Paulinum – Assembly Hall & University Church
Leipzig
Shimmering metal, hanging columns made of printed glass, slate and sandstone. The Paulinum now serves guests from Leipzig and around the world for academic events, church services, concerts and much more, in the same precise location where the demolished St Pauli Church once stood. With 670 + 150 seats, it is simultaneously a venue for events, a lively meeting place and a meeting room. Our brief was to realise the architecturally sophisticated, versatile roof structure with varying degrees of inclination.
Characteristic roof structures spanning almost 1,700 m² characterise the exterior of this living memorial. The "intellectual and spiritual centre" of the University of Leipzig bears witness to an eventful history. The Paulinum was built in the course of the campus redesign that was completed in 2012. Parts of the facade and an appropriate styled auditorium are now reminiscent of the historic Paulinerkirche, which was blown up in 1968. The design devised by the world-renowned architectural firm Design Erick Van Egeraat, Rotterdam, took into account the various architectural styles from the history of the university and its surroundings.
We realised the roof structures of the main roof, pitched and vertical areas as well as the gable roof. Here, the main focus of the planning and design work was on the different roof inclinations. In order to ensure that the strips, which run straight in plan view, fit precisely down to the last millimetre, the superstructure was designed three-dimensionally using the alternating gratings and aluminium sheets. The elaborate roof structure that is fashioned from steel, aluminium, expanded metal and gratings as well as the titanium-zinc gutters provide the University Church with a sculptural and unique overall impression.
© JCollingridge
© Paul Trainer
© Paul Trainer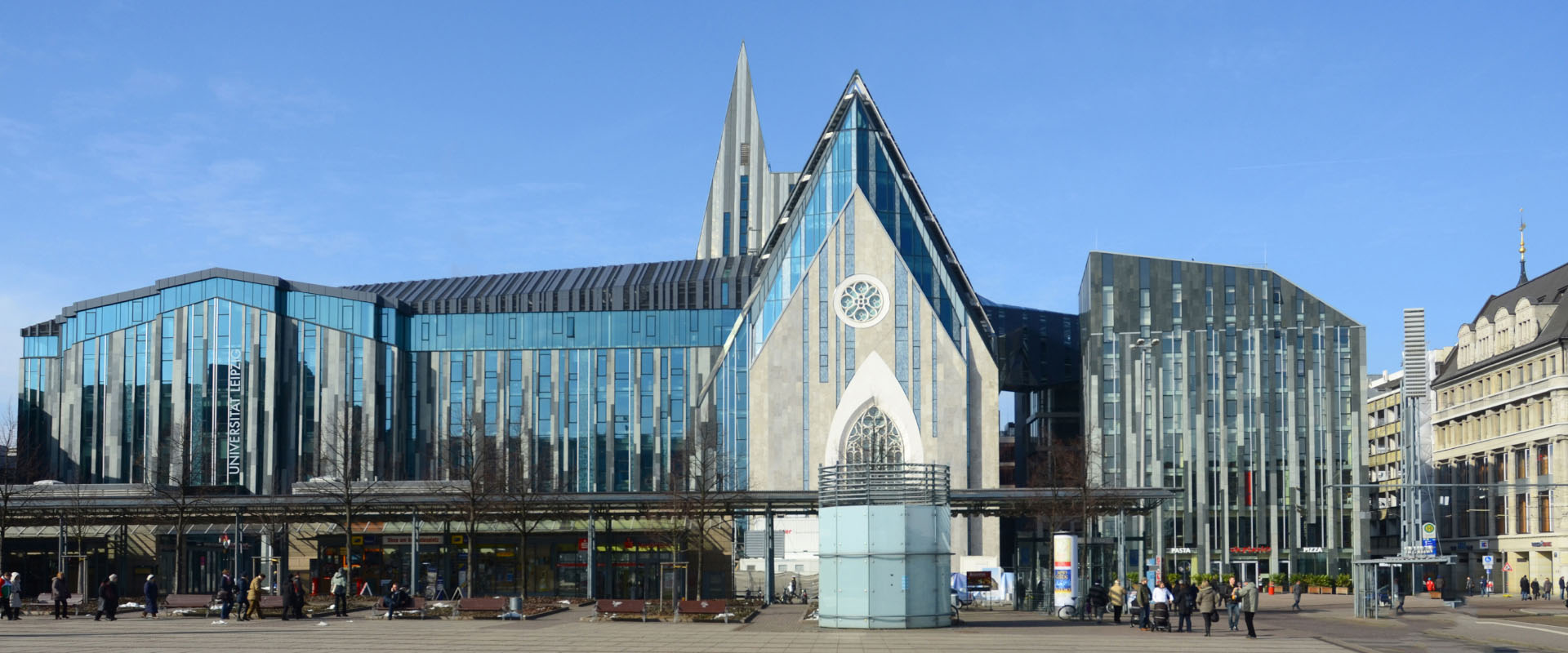 © Paul Trainer
Project data
2009 – 2011
Projects period
1,700 m²
Facade area
Architect
Design Erick Van Egeraat, Rotterdam (Design)
Fischer + Werner Architekten, Leipzig (Executive)

Building contractor
State Enterprise Saxon Real Estate and Construction Management – Leipzig II


CONSTRUCTION TYPE
Main roof structure
Sloping and vertical roof structure
Roof structure of the gable roof
PARTICIPATING COMPANIES
within the Schneider Group:
Radeburger Fensterbau GmbH
Schneider Steel Construction GmbH