National Center for Tumor Diseases
Dresden
It constitutes an essential component of the Oncology Campus at Dresden University Hospital: The NCT combines interdisciplinary cancer research and therapy extending across four floors and over 3,000 m² of floor space. The building was equipped by the Schneider Group with aluminium mullion and transom facades extending over an area of more than 1,200 m² including external venetian blinds. In the new building, completed in 2020, around 200 scientists and doctors are conducting research, including the development of robotic and computer-assisted systems for cancer surgery.
The NCT research centre is characterised by the lucky clover. Discreet design elements adorn the on-site metal facade as well as the interior furnishings in the form of a lucky clover. The rooms, each with their own individual design, are connected by a spacious two-storey hall which, by means of the lounge areas, roof terrace and bistro, creates space for scientists, doctors, patients and visitors to meet.
The exterior walls of the research building are clad with aluminium mullion-transom facades. On the ground floor, the slightly recessed glass facade helps open up the building's appearance. The new building adjoins the existing facility via a two-storey connecting wing. The manufacture and installation of the glass lamella windows was performed in close consultation with the company that supplied the metal facade. In addition to the aluminium mullion and transom facade on the upper floors, the glass lamella windows and the generous aluminium mullion and transom facade on the ground floor, our services also included the provision of other elements such as a vestibule, door elements made of aluminium and steel, as well as venetian blind systems and revolving door drives.
© Frank Blümler
© Frank Blümler
© Frank Blümler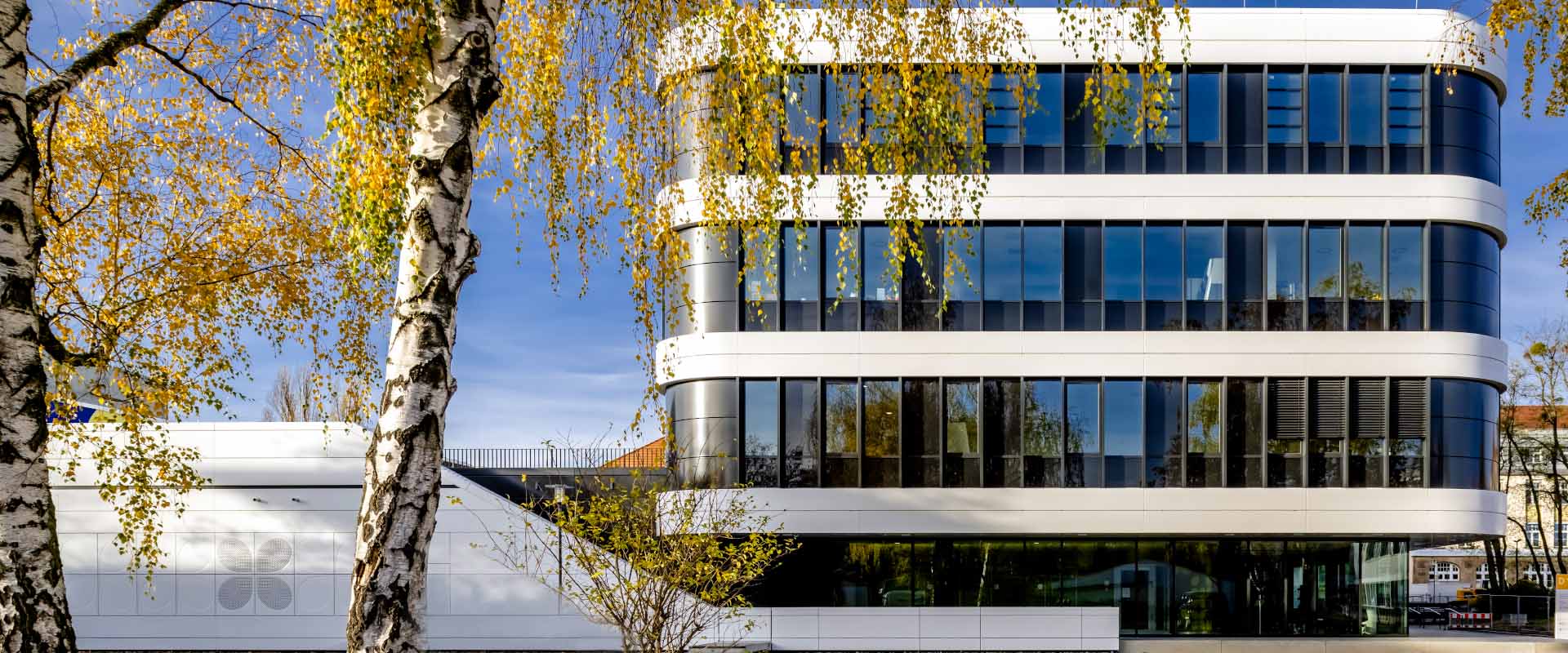 © Frank Blümler
Project data
2017 – 2019
Project period
1,300 m²
Facade area
Architect
Wörner Traxler Richter Planungsgesellschaft MBH, Dresden
Building contractor
Dresden University Hospital
CONSTRUCTION TYPE
Aluminium mullion-transom facade
Vestibule
Aluminium and sheet steel door elements
Punched windows
Glass lamella windows
Revolving door drives
SHEV systems
External venetian blind systems
PARTICIPATING COMPANIES
within the Schneider Group:
Radeburger Fensterbau GmbH
Schneider Steel Construction GmbH
Grupa Schneider Systemy Budowlane Sp. z o. o