Regional Church Archive
Nuremberg
© Radeburger Fensterbau GmbH
© Radeburger Fensterbau GmbH
© Radeburger Fensterbau GmbH
© Radeburger Fensterbau GmbH
© Radeburger Fensterbau GmbH
It is the second largest church archive in Germany: The Regional Church Archive (Landeskirchliches Archiv) in Nuremberg of the Evangelical Lutheran Church was built from 2011 until 2013. In addition to the storage areas, it accommodates a lecture and exhibition hall as well as several offices. Our order included all the aluminium mullion and transom facades on the ground floor, the aluminium window strips on the upper floors and a stainless steel microlamella sunshade. This required sophisticated special construction and fall-proof balustrade glazing.
The special feature of the Regional Church Archive is the unique building form involving an interplay of different facade types. The plinth level with clad sandstone forms a terrace with sloping terrain for the receding ground floor, which adds lightness to the building's appearance with its expansive and open aluminium mullion-transom facade. The upper floors with an on-site copper facade are visually opened up by high strip windows. These strip windows have mechanical, vertically sliding glass balustrades in front of the opening elements. The special feature of the building is the planning and structural interaction of our metal-glass facades and the on-site curtain wall made of copper sheets.
We equipped the approximately 500 m² mullion and transom facade on the ground floor and the 206 narrow, vertically arranged window elements on the 1st and 2nd upper floors with sunshades made of stainless steel microlamellas. The design of the strip windows on the upper floor was particularly challenging in terms of the structure and statics. They were integrated as special structures behind the on-site copper facade: In terms of the design, great importance was attached to the fact that the complete window profiles and structural elements as well as the retaining structures and mechanical components of the sunshade systems and the manually movable spandrel glazing were not visibly arranged behind the sheet metal cladding of the copper facade. In addition, it was also necessary that these remain accessible from the outside of the facade access system where maintenance and inspection work is necessary. In the exterior view, this results in a picture of merging surfaces of glass and copper sheet facades.
© Heiner Leiska
© Radeburger Fensterbau GmbH
© Heiner Leiska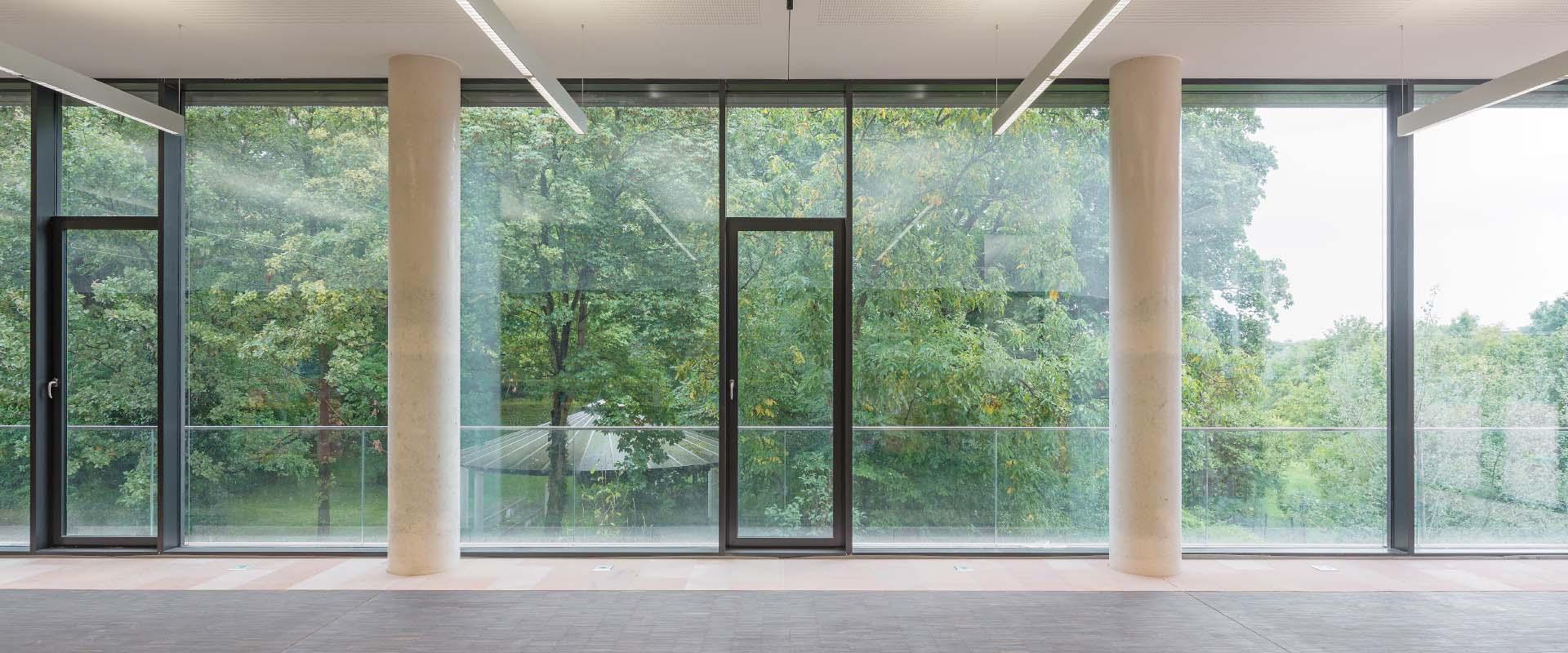 © Heiner Leiska
Project data
2012 – 2013
Project period
1,200 m²
Facade area
Architect
gmp Architekten von Gerkan, Marg und Partner
Building contractor
Protestant Lutheran Church in Bavaria


CONSTRUCTION TYPE
Aluminium strip windows with integrated fall-proof balustrades glazing
Aluminium mullion-transom facades
Aluminium door and gate systems
Stainless steel microlamella sunshade systems
PARTICIPATING COMPANIES
within the Schneider Group:
Radeburger Fensterbau GmbH
Rapid GmbH – Calau