Fritz Lipmann Institute
Jena
© Meike Hansen, Archimage
© Meike Hansen, Archimage
© Meike Hansen, Archimage
© Meike Hansen, Archimage
© Meike Hansen, Archimage
© Meike Hansen, Archimage
© Meike Hansen, Archimage
© Meike Hansen, Archimage
© Meike Hansen, Archimage
© Meike Hansen, Archimage
It is the first national research institute in Germany dedicated to biomedical research into human ageing. The appearance of the elongated five-storey laboratory building for the Leibniz Institute on the Beutenberg campus in Jena is correspondingly progressive. When viewing the building, it is the white textile facade that catches the eye and provides the building with its characteristic appearance.
The multi-layered, semi-transparent facade characterises the design of the seemingly white research and laboratory building. A special facade was realised by hks Architekten, Erfurt by means of the reduced transparency of the facade viewed from the outside. The new building has a double facade, which is designed as a unitised facade with a curtain membrane and triple pane insulating glazing. A glass-fibre membrane suspended approx. one metre in front of the building facilitates the glare-free diffusion of daylight. The ventilation of the facade cavity can be controlled depending on the climate for the purpose of energy optimisation.
The entire building envelope, running along all four sides, including connecting bridges, formed the object of the contract, which was implemented by Radeburger Fensterbau in precise detail. A continuous white, multi-layered and semi-transparent membrane facade was realised to reduce the transparency of the facade to the outside. It consists of PTFE (glass) applying an open-pored mesh fabric. The challenge here was to install the textile facade with pre-tensioned fabric while simultaneously allowing for deformation. In order to keep the membrane tension at a constant level regardless of the weather, a specially spring-loaded, re-tensionable modular system was designed to ensure a uniform appearance even in the event of different element sizes.
© Meike Hansen, Archimage
© Meike Hansen, Archimage
© Meike Hansen, Archimage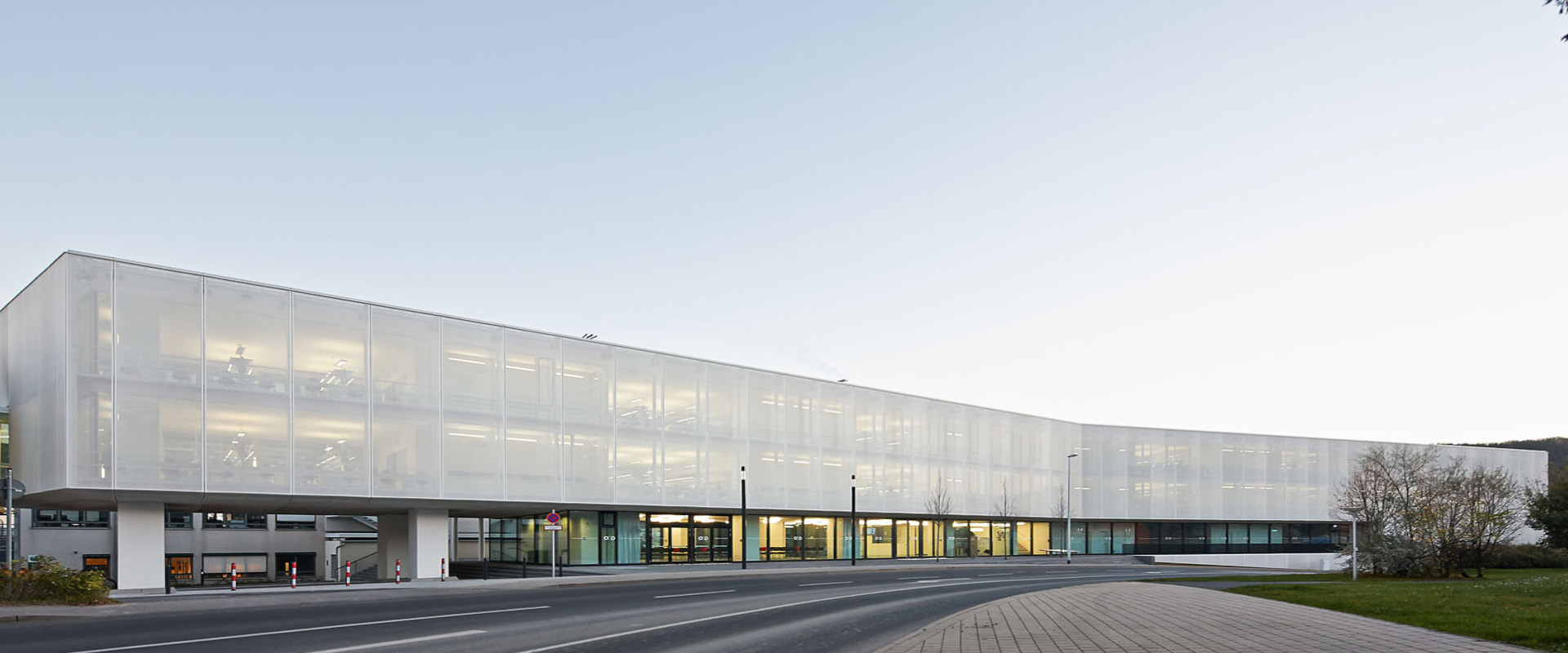 © Meike Hansen, Archimage
Project data
2010 – 2012
Project period
6,600 m²
Facade area
Architect
hks Architekten, Erfurt (Executive)
archiscape – Architekten (Design)

Building contractor
Leibniz Institute for Research on Ageing – Fritz Lipmann Institute (FLI)

CONSTRUCTION TYPE
Aluminium unitised facade
Textile facade
Steel-glass bridges
Steel facade
SHEV systems
External venetian blind systems
PARTICIPATING COMPANIES
within the Schneider Group:
Radeburger Fensterbau GmbH