Hochschule der Medien
Stuttgart
© wolframjanzerarchitekturbilder / VB BW
© wolframjanzerarchitekturbilder / VB BW
© wolframjanzerarchitekturbilder / VB BW
© wolframjanzerarchitekturbilder / VB BW
© wolframjanzerarchitekturbilder / VB BW
© wolframjanzerarchitekturbilder / VB BW
© wolframjanzerarchitekturbilder / VB BW
© wolframjanzerarchitekturbilder / VB BW
© wolframjanzerarchitekturbilder / VB BW
© wolframjanzerarchitekturbilder / VB BW
© wolframjanzerarchitekturbilder / VB BW
© wolframjanzerarchitekturbilder / VB BW
With a silver outer skin, the new building of the Hochschule der Medien – the building of the "Integrated University of Information Design" – stands as a freestanding object in the grounds. The architecture and room layout facilitate short communication channels and spontaneous encounters between lecturers, academic staff and students. A dialogue is also created between the shell-shaped building form, the facade elements of different heights and the rest of the building.
The new building of the Hochschule der Medien in Stuttgart-Vaihingen, constructed in 2014, houses a two-storey library as well as a lecture and cinema hall, office and seminar rooms, TV and photo studios, computer pools and audio/video labs. Flexible, open-plan offices that are flooded with light point the way towards the research and teaching of the future. With a floor plan of approximately 90 m x 40 m and a height of 13 m, the new building offers professors and students of information design a sufficient amount of space for the teaching and academic work. With a sloping, non-uniform facade, the building by Hotz + Architekten has a very modern, interesting and inviting appearance.
The building is divided up into four inner courtyards, the flooring of which picks up on and continues in line with the structure of the facade. The facade surface of the 3-storey building was primarily installed as an unitised facade and a mullion and transom facade. Windows of different widths provide rooms that are flood with light. Here the windows are interspersed with aluminium elements to form a unique facade pattern. The total floor area amounts to just under 4,400 m². Special detailed work was required in the installation of the sloping top edge and corners – likewise with regard to the shell-shaped floor plan.
© wolframjanzerarchitekturbilder / VB BW
© wolframjanzerarchitekturbilder / VB BW
© wolframjanzerarchitekturbilder / VB BW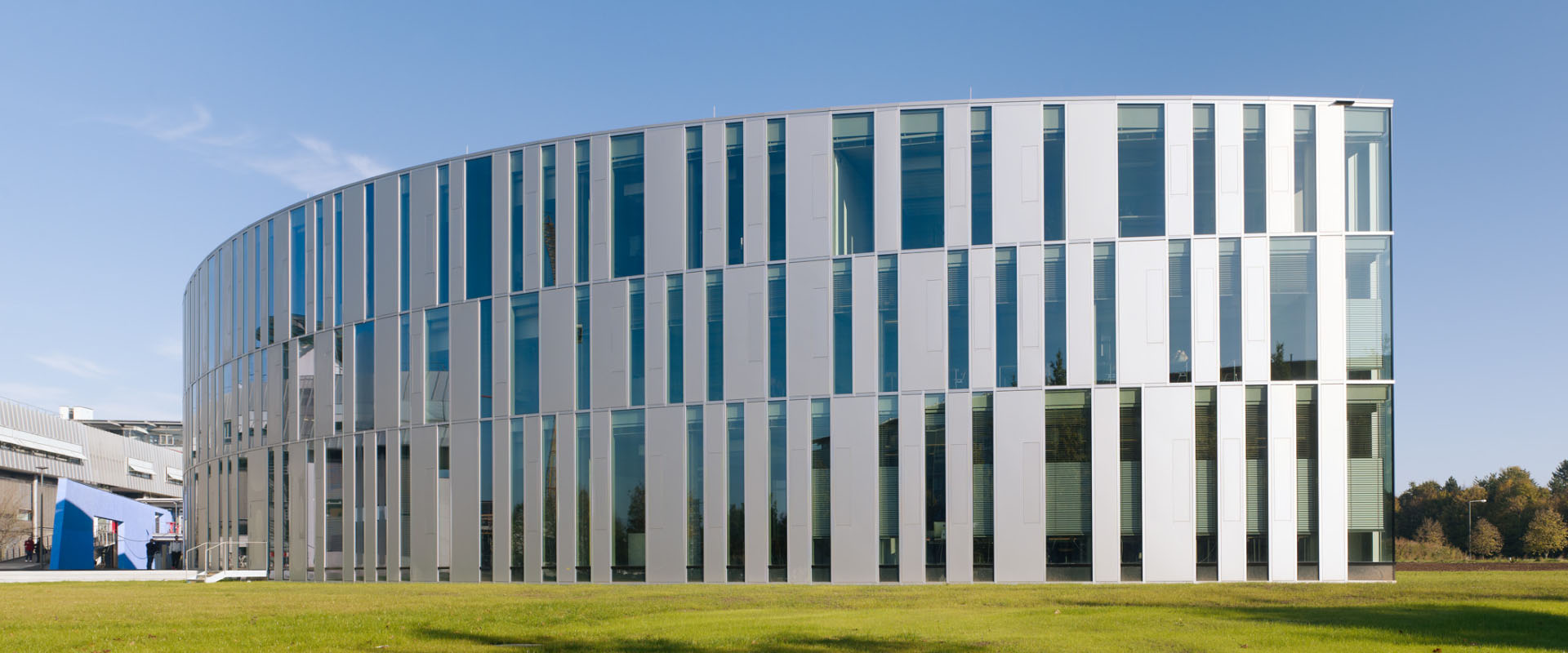 © wolframjanzerarchitekturbilder / VB BW
Project data
2012 – 2013
Project period
4,400 m²
Facade area
Architect
Hotz + Architekten, Freiburg
Building contractor
Stuttgart and Hohenheim University Construction Office
CONSTRUCTION TYPE
Aluminium unitised facade
Aluminium mullion-transom facade
Fire protection facade
PARTICIPATING COMPANIES
within the Schneider Group:
Radeburger Fensterbau GmbH
Schneider Steel Construction GmbH