It shapes the appearance of the Canary Wharf's new neighbourhood, Wood Wharf. Rising 37 storeys and around 128 m, the residential development at 10 George Street, commissioned by Vertus, the lettings division of the Canary Wharf Group, was completed in 2020. The luxurious residential offer includes a gym and bar, two guest suites and a private dining room, as well as a south-facing terrace. The complex and high-quality architecture with its strikingly jagged balconies that are integrated within the element facade, including sliding and swinging doors on the east and west elevations, were a key element in the planning and installation of the 12,600 m² facade.
The award-winning design created by GRID Architects features a retail space on the ground floor. Above this there are a total of 327 apartments. A special architectural feature are the balconies, which appear as a continuous strip, located on the east and west facades. They are arranged around a central core. The ground floor houses a club, lounge and a gym, while its roof serves as a south-facing terrace – with views over the South Dock and Harbour Quay Gardens on the waterfront. The high-quality facade of the building features a combination of natural stone and bronze-coloured metal panels.
We fitted the modern 37 storey building and the adjoining 5 storey podium building with a unitised facade made of aluminium and glass. The consideration of around 260 sliding doors and glazed balconies constituted a very special requirement. The balconies themselves were provided with a steel substructure, clad with aluminium and a floor covering made of recycled material, which was completed and installed on site using a spider crane. This project also involved the installation of 5 canopies, 74 two-storey elements – and much more. 132 corner elements were completely pre-assembled in the factory and attached to the building with the aid of a counterweight traverse and specially manufactured lifting frame. Another unique aspect of the installation is that a bespoke factory manipulator was used, with which 90 percent of all facade elements were installed from inside the building.
© Neil Perry
© Neil Perry
© JCollingridge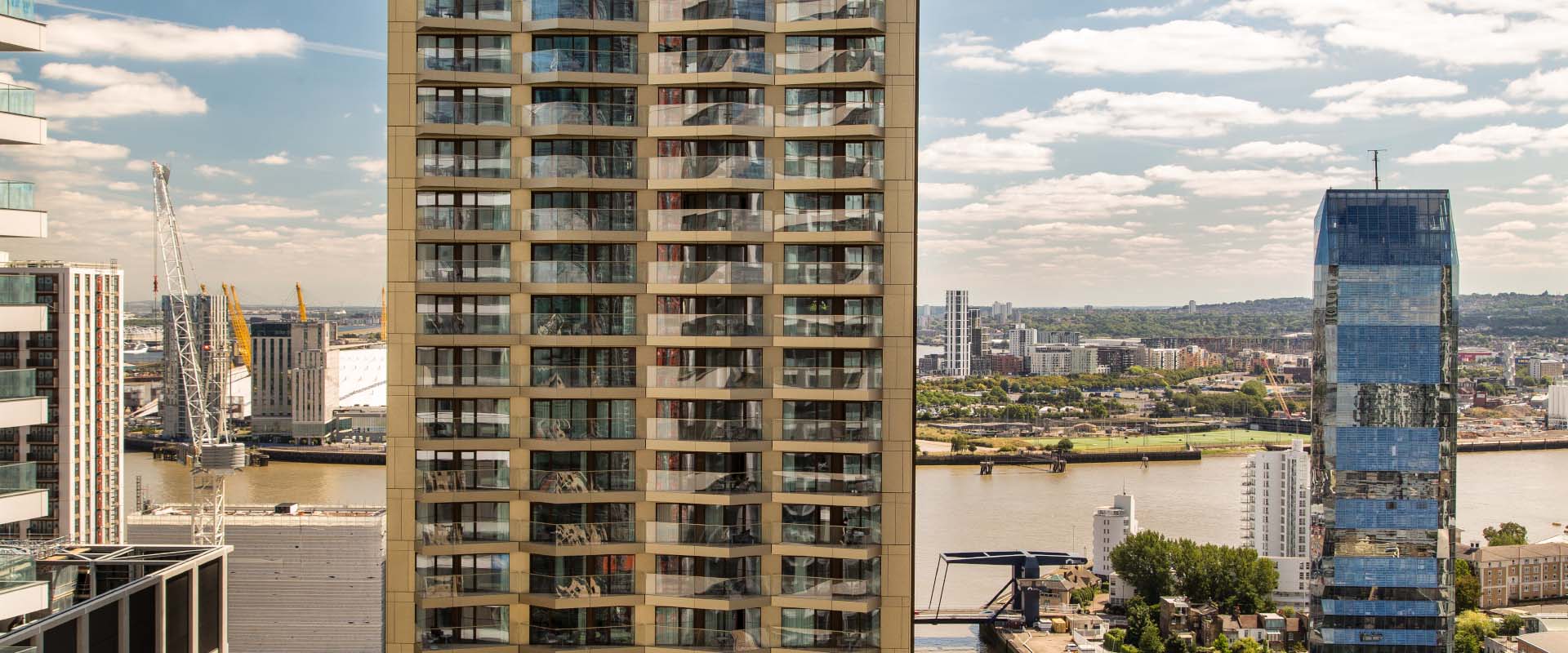 © JCollingridge
Project data
2016 – 2020
Project period
12,600 m²
Facade area
Architect
GRID Architects Ltd.
Building contractor
Vertus E1/2 Development Company Ltd.
Client
Canary Wharf Group
CONSTRUCTION TYPE
Balconies with glass balustrade
Corner elements and openable window elements
Steel structure for balconies
Unitised facade with sliding doors
Aluminium sheet cladding
Revolving and swing doors
Canopies
Aluminium grating
Lamella cladding
PARTICIPATING COMPANIES
within the Schneider Group:
Schneider GB Ltd.
Radeburger Fensterbau GmbH
Grupa Schneider Systemy Budowlane Sp. z o. o