Centre for Structural Systems Biology
Hamburg
The research building shines in a white facade with dark accents. The new building, completed in 2016, is located in the immediate vicinity of the PETRA III exhibition hall on the Hamburg-Bahrenfeld research campus. The clear structure blends harmoniously within the varied surroundings of the neighbouring buildings. Potential expansion areas can be realised easily by virtue of the sustainable facade. Schneider Group took on the planning, production and installation of the extensive parapet cladding measuring some 1,000 m² as well as the approximately 1,900 m² mullion and transom facade made of aluminium in the exterior and interior of the building.
The four-storey building can accommodate about 180 researchers and staff. The Centre for Structural Systems Biology is equipped with laboratories and offices and serves to promote young researchers. This especially concerns the topics of collaboration, mentoring and innovation for research into the complex processes and interactions between pathogens and their hosts. To this end, scientists can access both state-of-the-art in-house technology and DESY's unique X-ray light sources.
The glazing with blinds in the space between the panes constituted one of the special features of this order. For the exterior, we erected aluminium mullion-transom facades: of which more than 1,600 m² were on three of the four outer sides of the building and in excess of 350 m² in the inner courtyard. An unusual feature is that the outer facade of the research centre continues in some places as an inner facade inside the building, continuing the facade structure from outside to inside. Other parts of the contract comprised a steel facade for the fourth building exterior, a 500 m² parapet and various window and door elements made of aluminium and steel.
© Werner Huthmacher
© Werner Huthmacher
© Werner Huthmacher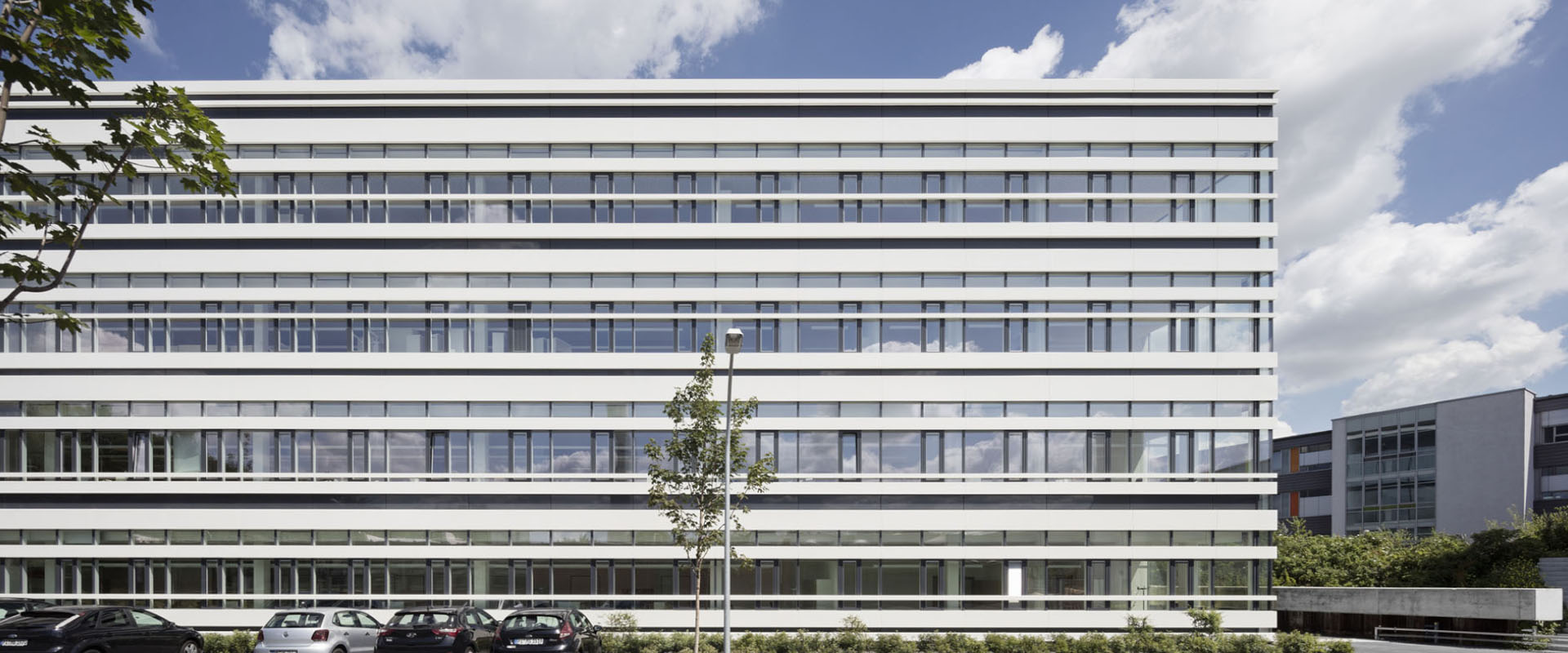 © Werner Huthmacher
Project data
2015 – 2016
Project period
4,500 m²
Facade area
Architect
Hammeskrause Architekten, Stuttgart
Building contractor
Deutsches Elektronen-Synchroton Desy, Hamburg
CONSTRUCTION TYPE
Aluminium mullion-transom facade
Steel facades
Window elements
Aluminium door elements
Steel door elements
Parapet
Balustrades
PARTICIPATING COMPANIES
within the Schneider Group:
Radeburger Fensterbau GmbH
Schneider Steel Construction GmbH
Grupa Schneider Systemy Budowlane Sp. z o. o