Traditional architecture with state-of-the-art elements: For the Ahrenshoop Art Museum, which opened in 2013, we were commissioned with the planning, construction, fabrication and installation of sheet metal facades and an aluminium glass roof system for five building blocks. The construction is characterised by the vertically profiled brass facade. The skylights are covered with a steel and glass structure. State-of-the-art, sustainable solutions were implemented to supply the buildings with light and heat.
Between tradition and modernity: The architectural concept of the Ahrenshoop Art Museum aims to portray its deep connection with the local landscape and tradition. A group of traditionally thatched houses served as a model for the museum, which consists of five individual houses joined together with a flat roof stretched between them. The roof forms are constructed in such a way that the supposed individual houses merge to become an overall complex. The core of the solid construction consists of reinforced concrete and is surrounded by a thermally insulated, vertically profiled brass facade, which, like the natural material it imitates, darkens after a certain time. In order to provide the exhibition rooms with daylight, the individual exhibition buildings have an open ridge area with a horizontal glass roof system made of an aluminium construction.
Daylight, ingeniously distributed: In all the 5 building blocks, the sheet metal facades that cover an area of some 1,600 m² and the glass roof skylights covering approximately 500 m² were installed using horizontal, internal sun shade/glare protection systems. In some areas there are additional perforated windows or other opening elements. The special feature of the glass roofs is the special insulating glass panes with integrated light-directing prisms and microfleece. These naturally illuminate the exhibition. The prisms integrated within the skylights produce a form of light distribution that one almost perceives as shadow-free room light. The issue of hygienic thermal protection was also solved in a state-of-the-art manner: The skylights have integrated profile heaters. The rear-ventilated brass sheet facade consists of specially manufactured brass sheet edgings (KME TECU®Brass) and, despite the unusual facade, perfectly assist in blending the art museum within the natural landscape.
© Stefan Josef Müller
© Stefan Josef Müller
© Stefan Josef Müller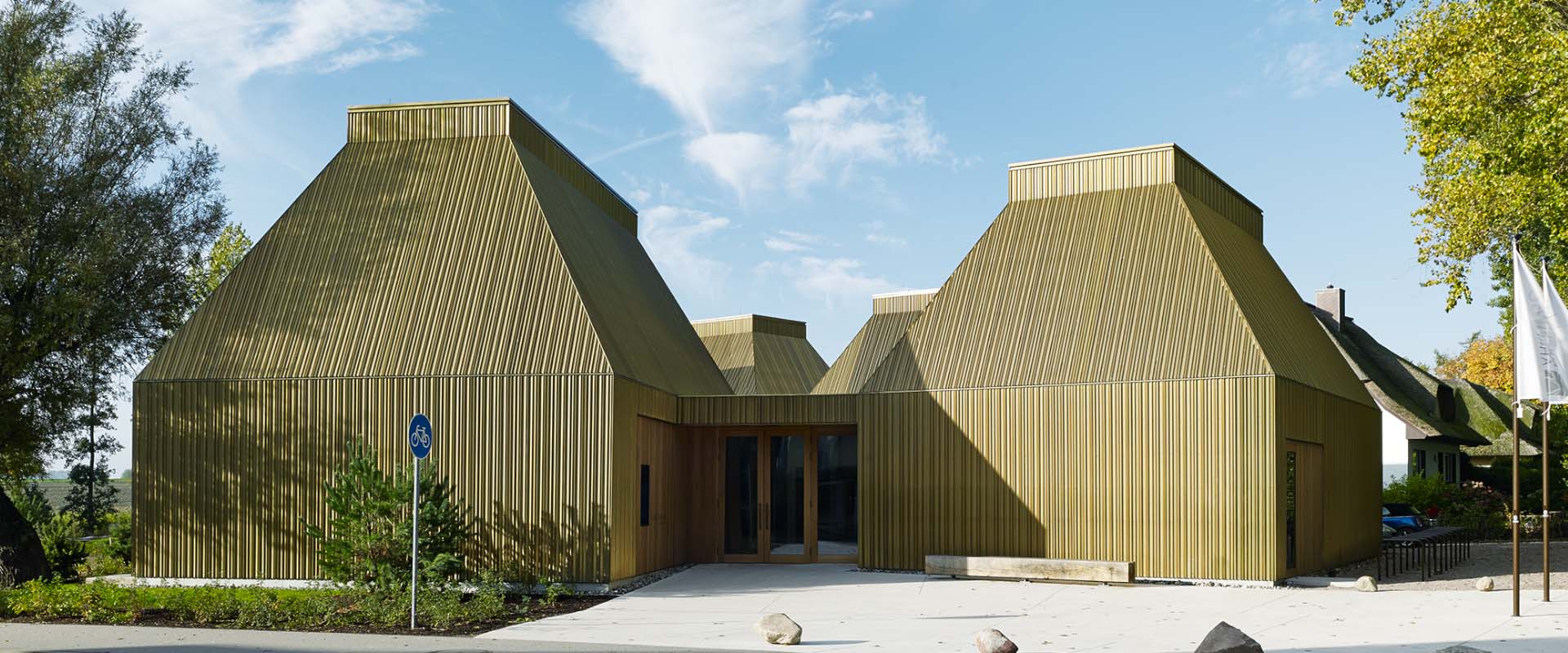 © Stefan Josef Müller
Project data
2012 – 2013
Project period
2,100 m²
Facade area
Architect
Staab Architekten, Berlin
Building contractor
Association of Friends and Sponsors of the Ahrenshoop Art Museum
CONSTRUCTION TYPE
Rear-ventilated brass sheet facade
Glass roof structure
Window elements
PARTICIPATING COMPANIES
within the Schneider Group:
Radeburger Fensterbau GmbH
Rapid GmbH – Calau
Grupa Schneider Systemy Budowlane Sp. Z o. o