Where letters were once distributed is now a meeting place. On the 2.3 hectare site of a former Royal Mail location, Great Portland Estates built new residential and office buildings in 2017 with space for retail outlets and restaurants, as well as a centrally located public square covering an area of 1,800 m². Radeburger Fensterbau desiged, produced and installed the office facade as an 18,000 m² unitised facade.
The commercial area of the project is located on the southern side of the site. Opposite the north-facing apartments and shops, it was planned by Make Architects as a prestigious unit to suit the new tenant Facebook. We implemented the facade accordingly: The linear front of panoramic windows and tinted stainless steel spandrel panels that run across its entire width is particularly impressive. The materials and details of the design, which is also continued in the interior, imbue the building with a refined and luxurious feel.
With a focus on local, natural materials, the office building, like the residential building, is clad in oblong, cream-coloured bricks – matt facing the street and glazed facing the inner courtyard. While Gebrüder Schneider equipped the facades of the residential building with punched windows, a sheet metal facade, a lamella facade and a curtain-type timber facade, Radeburger Fensterbau installed a unitised facade with large windows and textured stainless steel spandrels across seven storeys on the larger office building. In order to take account of the direct interfaces, the facades were planned and realised in close coordination with the on-site supplier of precast concrete elements and natural stone.
© Neil Perry
© Neil Perry
© Neil Perry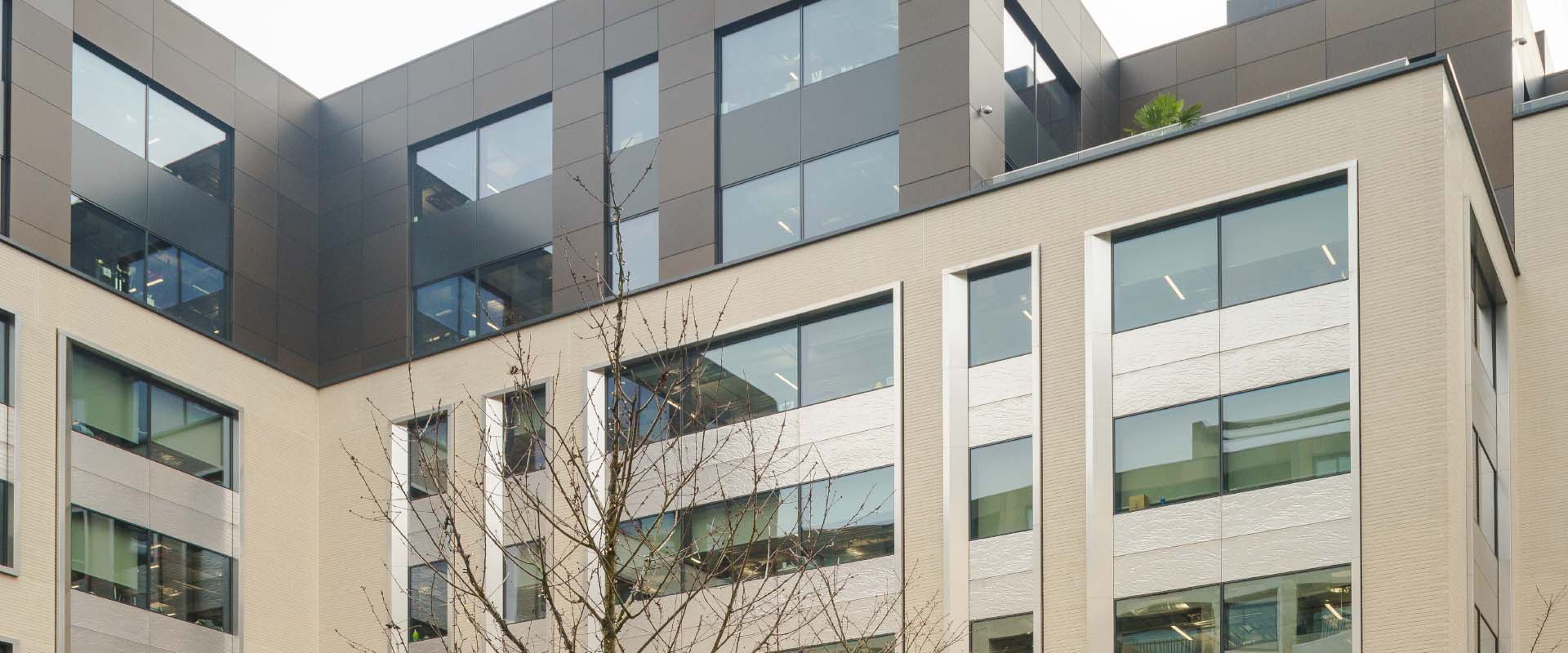 © Neil Perry
Project data
2015 – 2017
Project period
18,000 m²
Facade area
Architect
Make Architects
Building contractor
Great Portland Estates
Client
Lend Lease Construction
CONSTRUCTION TYPE
Unitised facade with textured stainless steel spandrel panels
Panoramic windows
Punched windows
Sheet metal facade
Wooden curtain wall facade
Lamella facade
PARTICIPATING COMPANIES
within the Schneider Group:
Radeburger Fensterbau GmbH
Gebrüder Schneider Fensterfabrik GmbH & Co. KG
Schneider GB Ltd.