NAWI-MEDI German Sport University
Cologne
The German Sport University Cologne is the only sports university in Germany – and the building envelope of its new institute building for natural sciences and medicine "NAWI-MEDI" also has a sporty appearance. Here, the striking structure of the five-storey exterior facade forms the main feature of the building's appearance: The vertically standing, perforated aluminium lamellas not only provide privacy and sunshade, but also have a versatile symbolic character.
The appearance of the university building is dynamic; it expresses to the idea of the Aachen-based firm Kadawittfeldarchitektur "Facade in motion": On the differently aligned lamellas of the facade, the course of Usain Bolt's legendary 100 m sprint at the World Athletics Championships in Berlin (2009) becomes visible when the light falls on them in the right position. While the five storeys of the building represent five lanes of the hundred metre track, the lamella, which stand in opposite directions, symbolise five runners and their speed. The two upper storeys project upwards in a pointed manner, while the lower three storeys end in a slight curve with the edge positioned behind them. Thus the building separates into two towards the front – the upper structure thereby acquires a certain aspect of weightlessness. As a "floating" form of weather protection, it towers over the entrance area and the plaza surrounded by trees, which functions as a place of exchange and meeting point for students.
The vertical aluminium lamellas of the cold facade reflect the green of the surrounding area, provide the facade with depth and connect the building and its surroundings. The main working performance was the installation of the 4,600 m² lamella facade (cold facade), which provides the building with a unique and homogeneous facade in addition to visual and solar protection. Behind this, 2,600 m² of aluminium mullion-transom strip windows were installed, while the foyer was openly clad in a slightly more open manner, i.e. with a steel mullion and transom facade. Wide door elements and punched windows add the finishing touches to the design.
© Martin Gaissert
© Martin Gaissert
© Martin Gaissert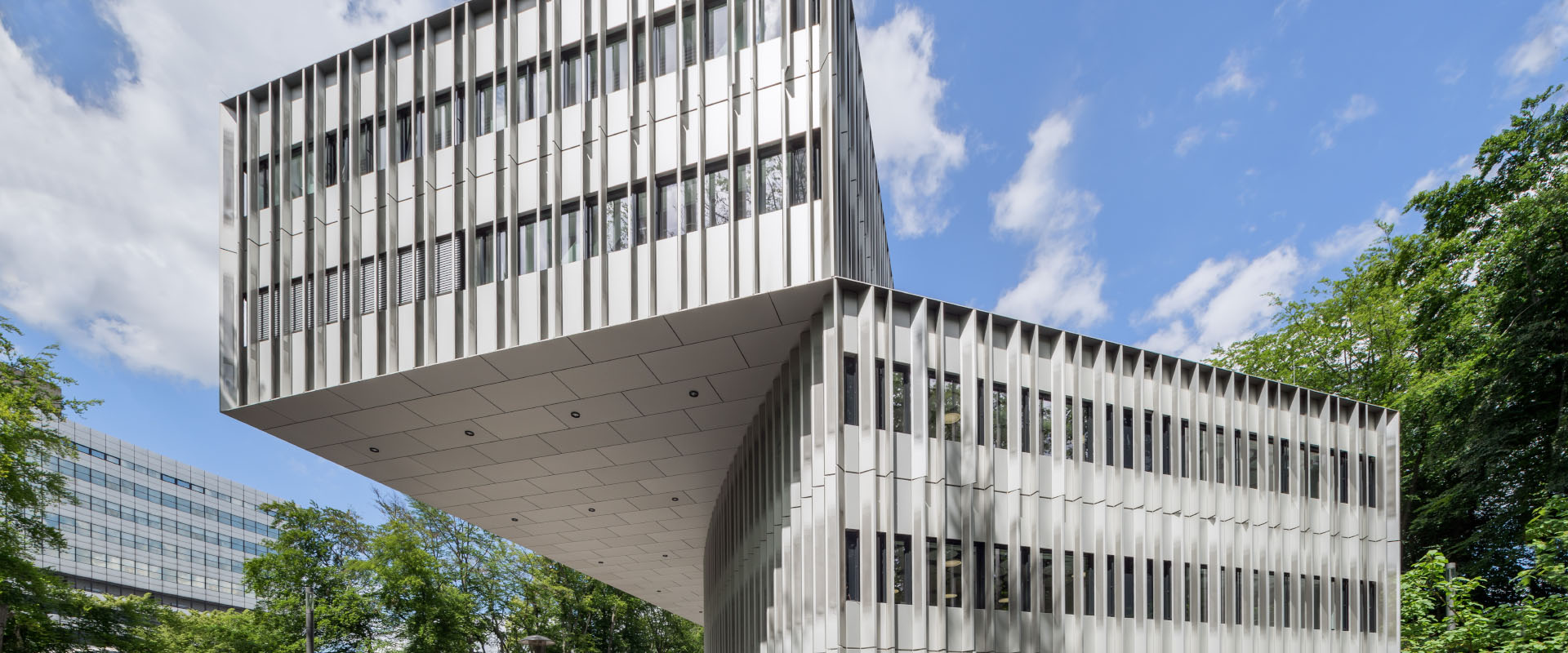 © Martin Gaissert
Project data
2014 – 2015
Project period
7,800 m²
Facade area
Architect
Kadawittfeldarchitektur GmbH, Aachen
Building contractor
Building and Real Estate Management NRW, Cologne
CONSTRUCTION TYPE
Aluminium mullion-transom facade
Steel mullion-transom facade
Sheet metal cold facade
Perforated metal pilaster strips
Mullion and transom strip windows
Punched windows
Doors
PARTICIPATING COMPANIES
within the Schneider Group:
Radeburger Fensterbau GmbH
Schneider Steel Construction GmbH