A historic, palatial building with contemporary elements welcomes its visitors at the centre of the Cologne Botanical Garden. The listed 19t century building was completely renovated from 2011 until 2014 and the original building contour was restored. We were awarded the contract for the production of the curved entrance facade with a canopy on the ground floor and for the structural glazing facade of the adjacent new building. The latter included the special requirement of multiple glass printing.
Renovation measures in the existing building, together with the extension to the north, form a versatile event building with one large and several smaller halls. The now completely barrier-free building complex consisting of the existing historic building and the modern new building now provide sufficient space for various events. With its large-scale, storey-high structural glazing facade covering an area of 850 m², the extension blends unobtrusively within the historic building. It is detached from the existing building by a glass joint. The smooth, homogeneous and floral-printed glass facade imbues it with an individual character that at the same time takes account of the surroundings.
A distinct feature is the reflection of the adjacent flora (plants, grass and trees) in the glass print of the extension with its oversized windows and the structural glazing facade. The extensive panes weigh approx. 600 kg and are held in place by means of an aluminium mullion and transom structure. Several special screens had to be manufactured for the implementation of the continuous floral pattern across the entire facade. Our order also included the fabrication and installation of a curved glass windbreak facade and a mullion and transom structure as an attachment to the roof. This also included a canopy structure and several door elements.
© Jens Willebrand
© Jens Willebrand
© Jens Willebrand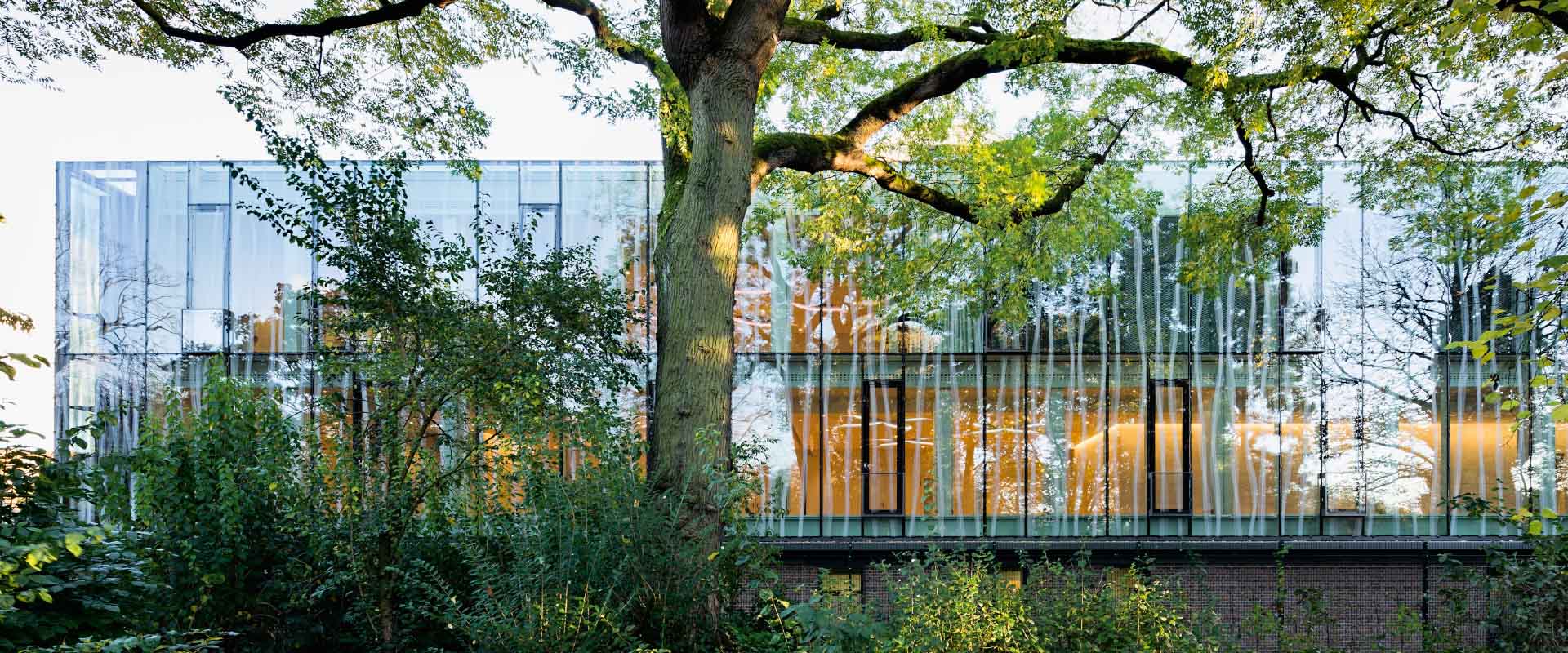 © Jens Willebrand
Project data
2012 – 2014
Project period
1,000 m²
Facade area
Architect
K+H Architekten, Stuttgart
Building contractor
City of Cologne Building Management
CONSTRUCTION TYPE
Aluminium mullion-transom facade
Structural glazing facade
Steel mullion-transom roof structure
Door elements
Curved windbreak facade
Canopy structure
PARTICIPATING COMPANIES
within the Schneider Group:
Radeburger Fensterbau GmbH
Schneider Steel Construction GmbH