One Kensington Gardens
London
Pure luxury in London's Kensington district: From 2012 until 2014, two seven-storey buildings were built on the site of the former Kensington Park and Kensington Palace hotels, both having a penthouse suite, as well as a five-storey block encased in an existing facade of Portland stone (limestone typical of the area).
The building complex partly constitutes a new building and partly a renovation of the old 19th century building. The new buildings on Kensington Road and Victoria Road consist of a pre-stressed reinforced concrete structure. By contrast, the Kensington Road building is clad in hand-hewn Portland stone on the ground floor, and each floor above is bordered by a thin strip of this type of limestone with massive bronze parapets and windows. The typical local limestone has been used as a building material for centuries, especially in Britain, and is still used to this day for significant buildings. The 97 luxury apartments are each surrounded by a large, open loggia offering a view of the Kensington Gardens park.
We clad the building, designed by David Chipperfield Architects LTD, London, with a total of 4,200 m² of facade surface and with the use of a variety of materials such as wood, bronze, aluminium and glass. There were a number of challenges to overcome in the planning, production and installation of various window, door and canopy structures. This included, among other things, harmonising the style of the new building with the architectural style of the adjacent, renovated old building. In addition, the combination of the different materials of the windows and facades using the Portland stone had to be considered and implemented according to plan. Last but not least, around 750 windows – fixed glazed, lift-and-slide and conventional windows – were professionally planned, produced and installed by us.
© JCollingridge
© JCollingridge
© JCollingridge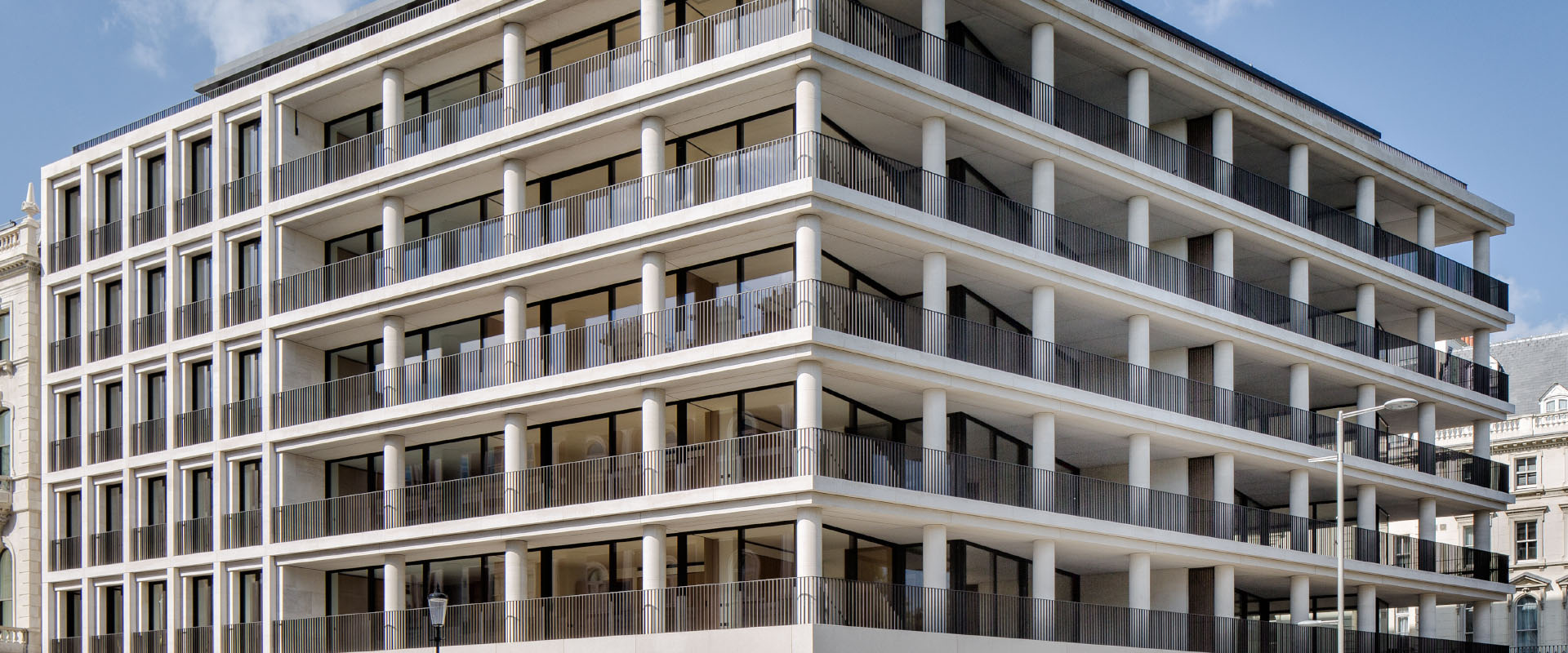 © JCollingridge
Project data
2012 – 2014
Project period
4,200 m²
Facade area
Architect
David Chipperfield Architects LTD., London
Building contractor
De Vere Estates Ltd.
Client
Sir Robert McAlpine Ltd., London
CONSTRUCTION TYPE
Lift and slide doors
Bronze cladding
Doors
Canopies
Wood-aluminium windows
Wood-bronze windows
PARTICIPATING COMPANIES
within the Schneider Group:
Radeburger Fensterbau GmbH
Schneider GB Ltd.
Gebrüder Schneider Fensterfabrik GmbH & Co. KG