BER Airport
– North and South Pier
We were responsible for the facade work on the north and south piers of the new Berlin Brandenburg "Willy Brandt" Airport in a joint venture involving Radeburger Fensterbau, Rapid Calau and Gebrüder Schneider Fensterfabrik. The glazed and textile-covered areas included lounges, baggage handling and check-in rooms. Among other things, large-scale mullion and transom structures made of steel and aluminium were used.
Berlin Brandenburg Airport is the third largest airport location in Germany. It was opened on 31 October 2020. Two terminals are currently in operation. The main terminal covering an area of 360,000 m² is located between two parallel runways. From 2010 until 2012, we took on the facade construction work for the north and south piers and the connecting buildings.
We planned, designed, manufactured and installed some 12,000 m² of steel and aluminium mullion-transom facade structures. 4,000 m² of textile facades were also integrated, which not only provide structure to the facade design, but also serve as sound insulation and privacy screens. Due to the high demands with regard to sound insulation and the radar systems for BER Airport, radar reflection-absorbing glazing and partially increased sound insulation were used. Fully automated door systems, roof structures, roof sealing systems and parapets also formed part of the order.
© Felix Oberhage
© Felix Oberhage
© Felix Oberhage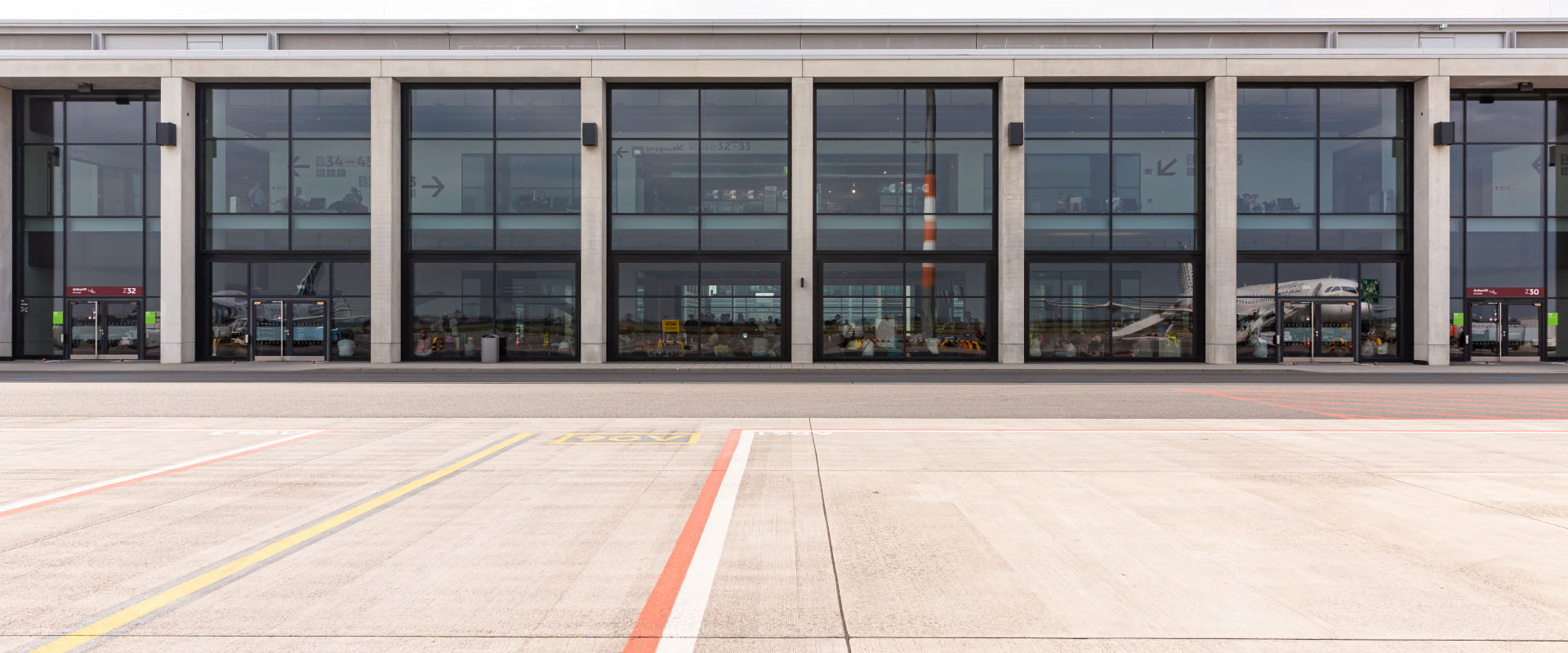 © Felix Oberhage
Project data
2009 – 2012
Project period
12,000 m²
Facade area
Architect
PG BBI / JSK Berlin
Building contractor
Flughafen Berlin-Schönefeld GmbH,
Planung und Bau BBI

CONSTRUCTION TYPE
Steel-aluminium facades
Textile facades
Windows
Doors
Parapets
Roof sealing
PARTICIPATING COMPANIES
within the Schneider Group:
Radeburger Fensterbau GmbH
Rapid GmbH – Maschinenbau & Automatisierung – Calau
Gebrüder Schneider Fensterfabrik GmbH & Co. KG