Main Tropical Greenhouse
Berlin-Dahlem
5,800 m² of steel and glass: One of the world's largest column-free greenhouses in Berlin-Dahlem was extensively renewed from 2006 until 2009. The 28 m high, cantilevered steel structure from 1907 was partially renovated, and the old facade was replaced by a heated facade. Hot water now flows through the facade along a total length of 7,300 m. In combination with particularly energy-efficient glass, the total energy consumption has been reduced by around half.
The central building in the tropical garden of the Freie Universität Berlin is still one of the largest of its kind in the world. The aim of the elaborate renovation was to retain the original appearance and to use the facade as a radiator to create a suitable tropical climate. Considering the protection of historical monuments, the Berlin-based Architekturbüro Haas designed a heated facade that prevents condensation. Hot water at 36 °C flows through the inside of the facade profiles. Due to the thermal decoupling of the glass facade from the heated steel facade, condensation is prevented even at levels of 75°C humidity, while the outside temperature is -15°C.
Detailed work was required in particular for the heating system design and the coordination of the supporting structure. The main services provided by Radeburger Fensterbau were the renewal of the steel structure and the renovation and new construction of the glass facade made of heat protection insulating glass with a special anti-reflective coating and a UV-permeable SGP film in the overhead area. The water routing was implemented using 22 large radiators plugged together to counteract the constraining forces and movement of the external building envelope. In addition to the heated facade, the Main Tropical Greenhouse was provided with a connecting building to the adjacent Viktoria-Regia-Haus, that was glazed by Radeburg Fensterbau. 220 ventilation wings in the lower and roof areas, lamella elements and various revolving and sliding doors were integrated within the 4,300 m² glass surface.
© Dirk Altenkirch
© Dirk Altenkirch
© Dirk Altenkirch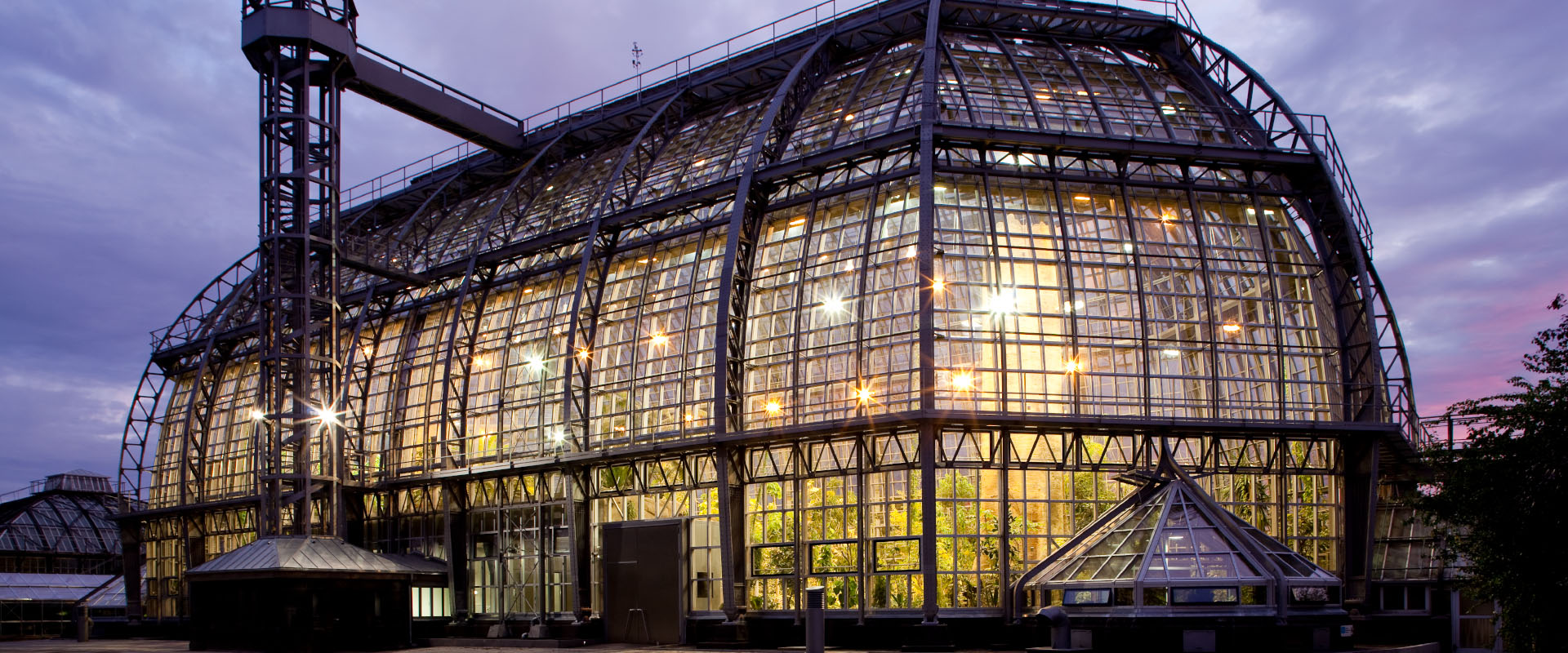 © Dirk Altenkirch
Project data
2006 – 2009
Project period
5,800 m²
Facade area
Architect
Haas Architekten, Berlin
Building contractor
Freie Universität Berlin

CONSTRUCTION TYPE
Heated polygonal Hösch steel section facade
Skylights
Hinged and sliding doors
PARTICIPATING COMPANIES
within the Schneider Group:
Radeburger Fensterbau GmbH