University of Applied Sciences Bielefeld
© Aldo Amoretti / Auer Weber Architekten BDA
© Aldo Amoretti / Auer Weber Architekten BDA
© Aldo Amoretti / Auer Weber Architekten BDA
© Aldo Amoretti / Auer Weber Architekten BDA
© Aldo Amoretti / Auer Weber Architekten BDA
© Aldo Amoretti / Auer Weber Architekten BDA
© Aldo Amoretti / Auer Weber Architekten BDA
© Aldo Amoretti / Auer Weber Architekten BDA
© Aldo Amoretti / Auer Weber Architekten BDA
© Aldo Amoretti / Auer Weber Architekten BDA
© Aldo Amoretti / Auer Weber Architekten BDA
© Aldo Amoretti / Auer Weber Architekten BDA
Different coloured glass and aluminium surfaces characterise the appearance of the University of Applied Sciences building in Bielefeld. This effect is achieved by means of alternating facade components, which occur through the interplay of the glazing and panel elements. The largest order constituted the almost 20,000 m² aluminium facade comprising 3,800 elements. In addition, there are mullion and transom facades made of steel and aluminium, rear-ventilated aluminium sheet metal facades and rear-ventilated concrete block facades.
The largest university of applied sciences in East Westphalia-Lippe is used in a variety of ways. Barrier-free and with underground parking, it houses not only seminar rooms and lecture halls, but also, among other things, the Audimax and conference area, research and laboratory units, a theatre room, learning centre, cafeteria and a library that merges several specialist libraries for the first time. The front faces the campus with a clear spatial edge, while the back is open and variable to the landscape. The continuous plinth adapts to the sloping terrain to the south. The coloured enamelled mono glazing comprising seven different shades of grey and brown as well as a light wave structure adds variety to the facade and symbolises the thought processes of the students and teachers.
We were also able to meet the economy and efficiency requirements in this project. The design concept of the enamelled mono glass panes that are coloured throughout the entire surface of the various facade elements was successfully applied to the facade by our installation team in the desired sequence. We thus successfully implemented the pixel-like overall concept of the artist Josef Schwaiger 1:1. We used a "concealed holder" to fix the facade in place. – The panel elements were joined and attached to the glazing by the aluminium element facade. Another service at the university building involved the integration of motorised blackout systems, external venetian blinds, door systems and natural smoke and heat exhaust ventilation systems (NSHEVS).
© Aldo Amoretti / Auer Weber Architekten BDA
© Aldo Amoretti / Auer Weber Architekten BDA
© Aldo Amoretti / Auer Weber Architekten BDA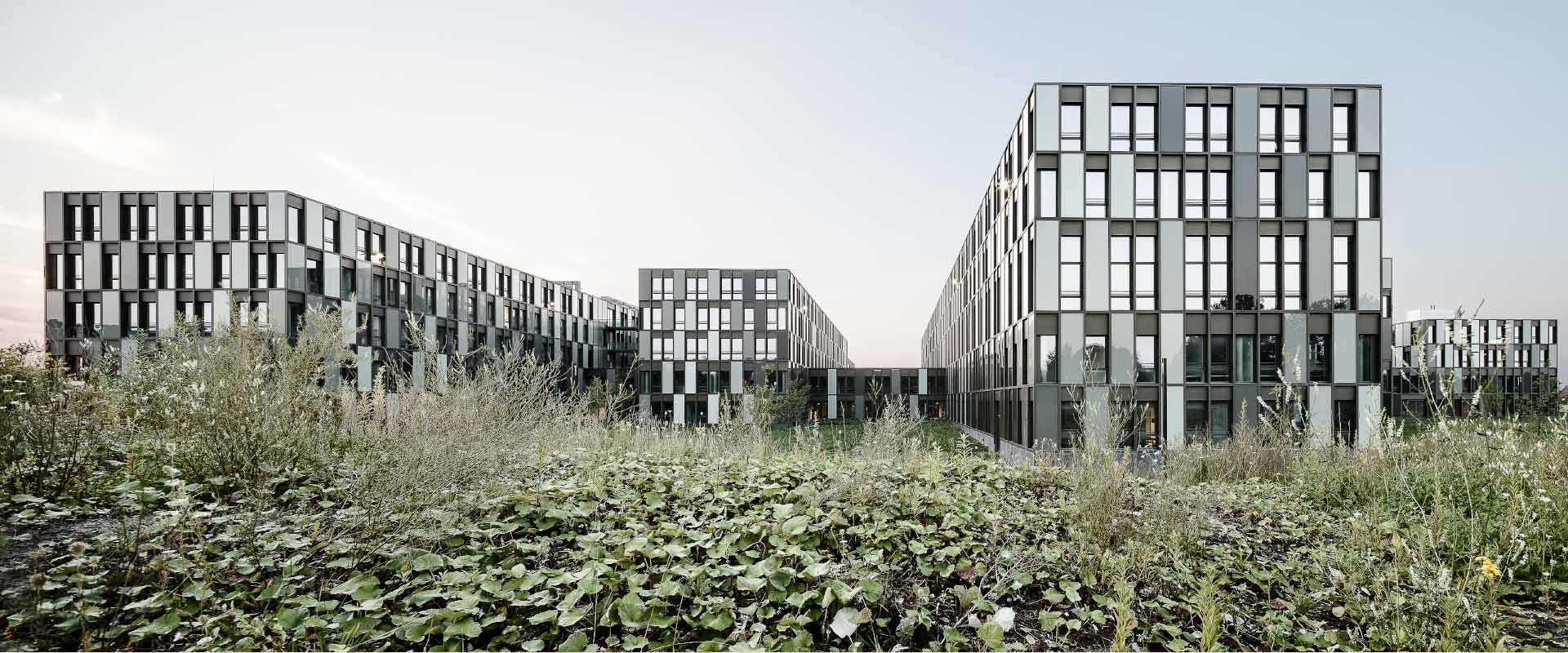 © Aldo Amoretti / Auer Weber Architekten BDA
Project data
2011 – 2014
Project period
23,300 m²
Facade area
Architect
Auer Weber Architekten, München
Building contractor
Building and Real Estate Management NRW, Bielefeld
CONSTRUCTION TYPE
Aluminium unitised facades
Aluminium mullion-transom facade
Steel mullion-transom facades
Rear-ventilated concrete block facade
Rear-ventilated aluminium sheet facades
Door systems
NSHEV systems
External venetian blind systems
Blackout systems
PARTICIPATING COMPANIES
within the Schneider Group:
Radeburger Fensterbau GmbH
Grupa Schneider Systemy Budowlane Sp. Z o. o