Striking, prestigious facade: Constructed predominantly of glass, concrete and steel, Berlin Central Station is an architectural focal point in the centre of Berlin. The building complex was built in 2006 on the site of the old Lehrter railway station based on the plans of gmp Architekten von Gerkan, Marg und Partner. The lateral hooped structures – two 46 m high, 1,200-tonne towers made of steel girders covering a total facade area of over 31,000 m² there were clad by us – are considered an engineering masterpiece.
Europe's largest interchange station stands on an area covering 100,000 m². The glass station complex combines local and long-distance transport with shopping and office space. The latter are located on a site covering some 42,000 m² in the two stirrup buildings: running in parallel with the north-south roof, they flank the underground railway facilities with a north-south orientation and span the east-west platform concourse. Radeburger Fensterbau was responsible for the planning, construction and installation of the glass facade "behind" the steel structure.
The cladding of the lateral stirrup buildings to the left and right of the entrance hall was performed using a combination of mullion and transom facades covering an area of some 2,800 m² on the ground floor and around 22,000 m² of unitised aluminium facade on the upper ten floors. The service and maintenance level at the very top of the roofs of the gantry bridges was clad with a 4,700 m² grating facade and above the bridge with a 1,700 m² perforated stainless steel facade. The aluminium unitised facade meets all special requirements for sound and fire protection. In addition, there are motorised top-hung windows, smoke and heat extraction systems as well as an external access system for the maintenance and cleaning of the facade.
© Werner Huthmacher
© Werner Huthmacher
© Werner Huthmacher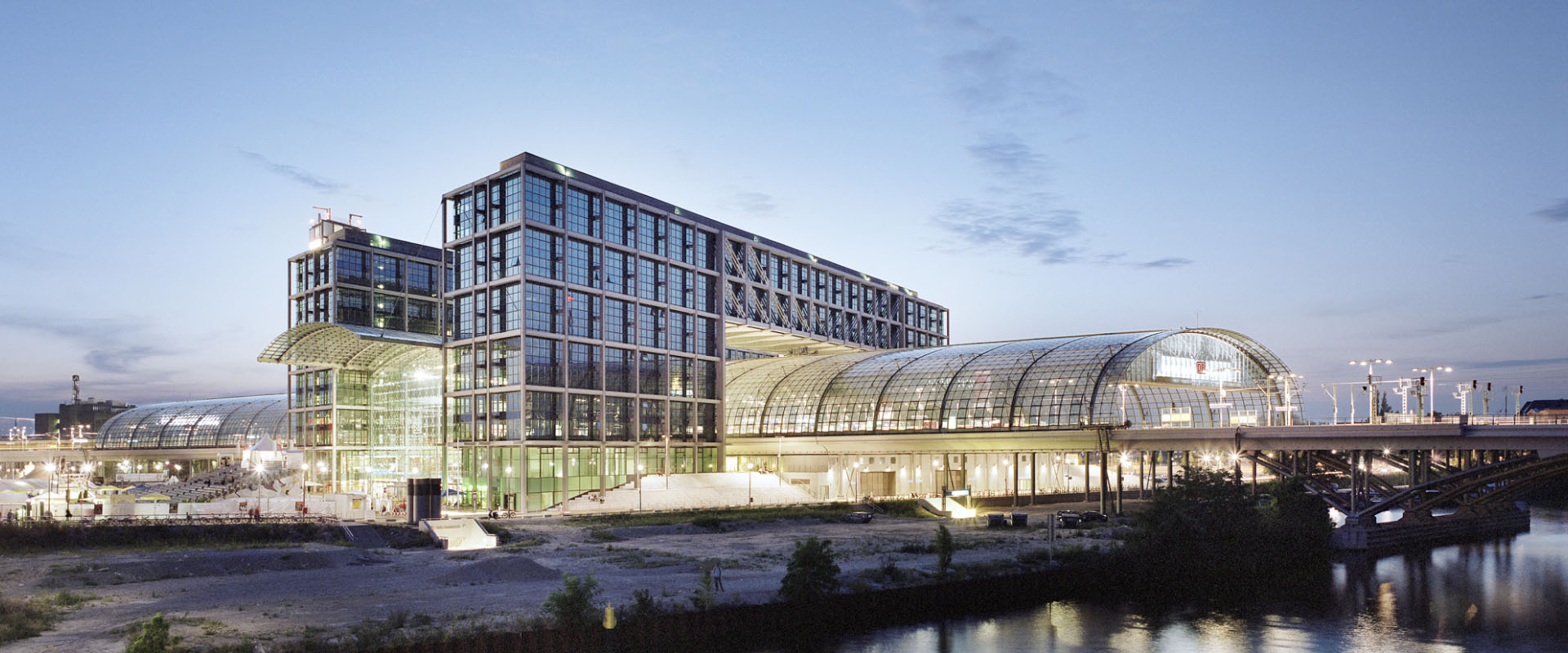 © Werner Huthmacher
Project data
2004 – 2006
Project period
31,100 m²
Facade area
Architect
gmp Architekten, Berlin
Building contractor
Deutsche Bahn Projekt Verkehrsbau GmbH


CONSTRUCTION TYPE
Aluminium unitised facade
Steel mullion-transom facade
Rear-ventilated perforated stainless steel facade
Grid facade
Escape door systems
PARTICIPATING COMPANIES
within the Schneider Group:
Radeburger Fensterbau GmbH