Precision work was called for here: The Information, Communication and Media Centre of the Brandenburg University of Technology in Cottbus (BTU Cottbus) has a truly unique facade. By applying an ingenious concept, we were able to successfully realise the unusual double facade spanning a total of 9,000 m² including the associated steel construction and lamella insulation.
Imposing and inviting – this is the impression you get when you stand in front of the Information, Communication and Media Centre of the Brandenburg University of Technology in Cottbus. The interesting thing here is the perspective: different associations are evoked in each case depending on the angle of view. The 32 m high building is characterised by its rounded and sweeping shape, has no front or back sides and thus appears open and attractive. It also means that there are hardly any wall elements inside – columns and solid core elements made of reinforced concrete support the ceiling panels. This special architecture creates galleries and large open air spaces, which are accentuated by the transparency of the double-skin glass facade (double facade).
This building cannot be overlooked due to its curved shape. The silkscreen pattern of different Cyrillic letters on both levels of the double glass facade is a particularly characteristic feature and creates a connection with a library. First of all, it adorns the insulated glazed unitised aluminium facade, which forms the outer skin of the double facade. In addition, the secondary facade consists of square, 4-point tempered safety glass panes that are also screen-printed on the outside. This creates a white veil on both sides of the glazed building envelope with superimposed texts in different languages and alphabets. In this way, the hardness of the glass and the reflection are broken up and a homogeneous building is created. Due to the amoeba-like shape of the building and the screen-printed patterns on the facade parts in 25 motifs, which had to be positioned according to the correct specifications, the team coordination and planning work were very important in the implementation and installation of the double facade.
© Werner Huthmacher
© Werner Huthmacher
© Werner Huthmacher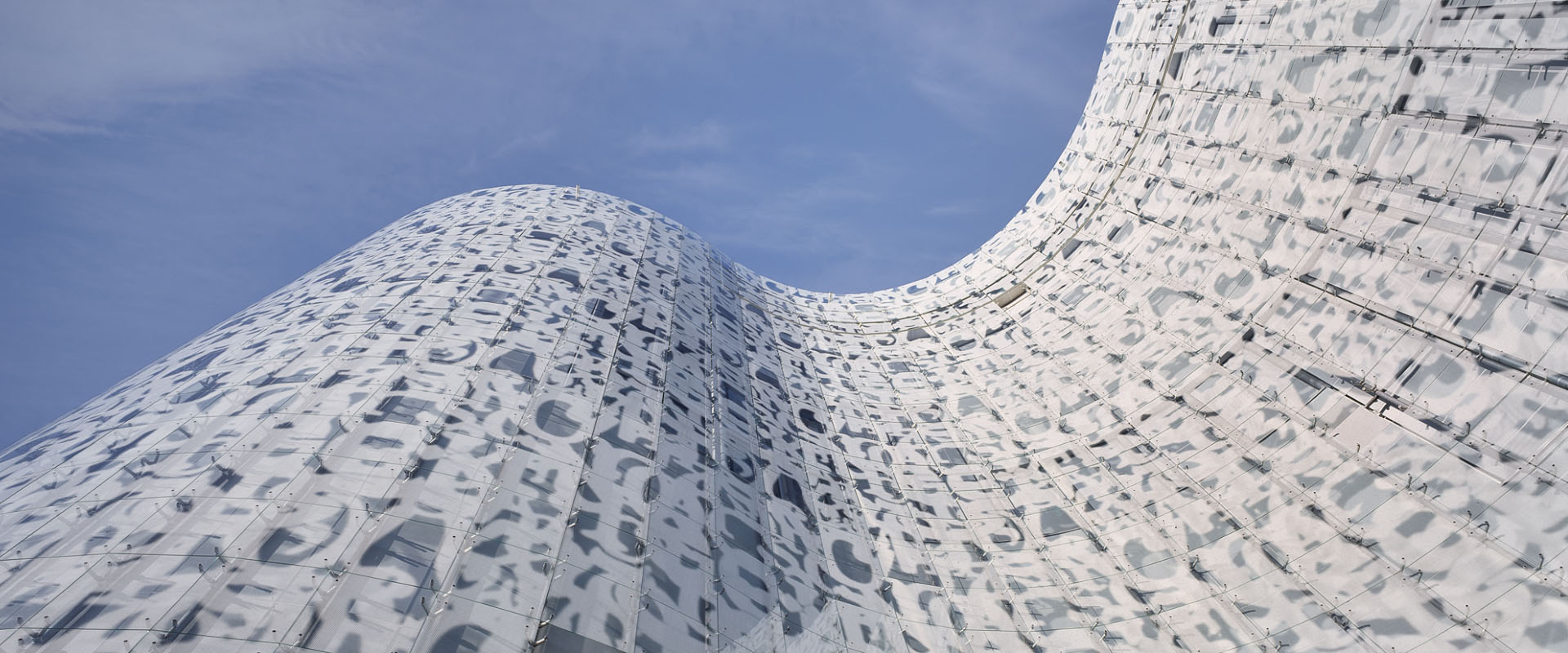 © Werner Huthmacher
Project data
2003 – 2004
Project period
9,000 m²
Facade area
Architect
Herzog & de Meuron, Basel
Building contractor
Brandenburg State Office for Real Estate and Construction, Cottbus
CONSTRUCTION TYPE
Double facade
Point-fixed toughened safety glass panes
Window elements with high window sashes
Steel structure
PARTICIPATING COMPANIES
within the Schneider Group:
Rapid GmbH – Calau
Gebrüder Schneider Fensterfabrik GmbH & Co. KG
Radeburger Fensterbau GmbH