Hans Otto Theater
Potsdam
The "New Theatre" is located directly on the banks of the "Tiefen See" lake in Potsdam. It is the main venue of the Hans Otto Theater. In the case of this new building, Radeburger Fensterbau GmbH was commissioned with the construction of the facades of the theatre hall and the entrance areas, including the integration of SHEV systems and fire protection elements. The entire facade surface covers an area of 1,780 m². The special feature of this project concerned the fact that the adaptation of the facade constructions to the three-dimensional concrete ceilings had to be taken into account during the planning and implementation work.
Resembling an open calyx over glass, that opens up towards the lake: The three red canopies, sharply serrated and each rising, tower above the transparent facade of the New Theatre in Potsdam, the main venue of the Hans Otto Theater. The Großes Haus, which opened in 2006 was designed by the renowned Cologne-based architect Gottfried Böhm based on the familiar motif of the "Marian rose". Transparency is an important characteristic here: The open architecture allows a wide view from the glass foyer across the Tiefen See to the Babelsberg Palace Park. Moreover, the theatre foyer and theatre hall are not separated by a wall as is usually the case, but only by a double facade made of glass. This is visible in both directions and is darkened during the performances by a curtain between the two facades.
The architecturally demanding concept was implemented using a double glass facade: In this instance, the primary facade is a glazed steel mullion-transom structure; the secondary facade is also a steel post-and-beam construction, but with point-fixed glazing. 30 m² of F30 fire protection elements and 200 m² of glass lamella elements were also added for the purpose of extracting smoke and heat. Due to its use as an event hall, all of the above-mentioned structures meet the high sound insulation requirements meaning theatre performances can be held without any disruptions.
© Felix Oberhage
© Felix Oberhage
© Felix Oberhage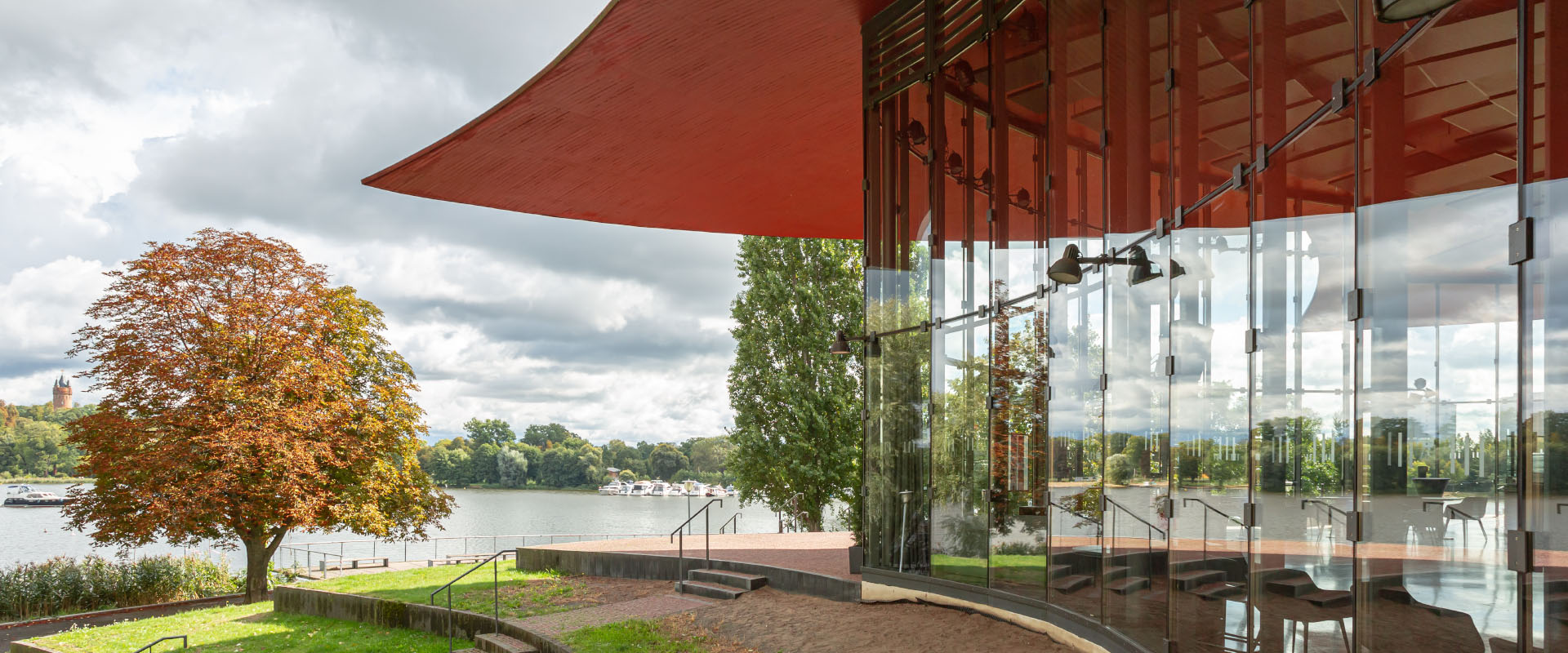 © Felix Oberhage
Project data
2005 – 2006
Project period
1,800 m²
Facade area
Architect
Böhm Architekten, Köln
Building contractor
City administration of the State Capital Potsdam, Department of Buildings Real Estate
CONSTRUCTION TYPE
Double facade
Primary facade – steel mullion and transom facade
Secondary facade – point-fixed toughened safety glass on steel mullions/transoms
Glass lamella structure
PARTICIPATING COMPANIES
within the Schneider Group:
Radeburger Fensterbau GmbH